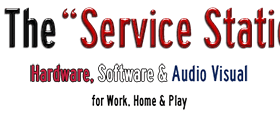 Rolando Pozo
813-334-3724
www.selfservicesucks.com

We Provide Service.
There's no Higher Purpose than Service to others.
Established in 2000, The "Service Station" is a Full-Service Technology Company that remembers when Service Didn't Suck…
In today's world, keeping up with Technology for Work, Home & Play can be overwhelming so…
When You Want IT Done Right, Don't Do It Yourself.
Please click on the link above, explore our site and discover the many ways in which The "Service Station" can help your Work become more efficient, your Home become more intelligent & your Play become more fun through innovative ideas backed by sound engineering experience, provided by our Team of Master Mechanics.
Whether you need Hardware, Software or Audio Visual Sales, Service or Installations for Work, Home & Play, our friendly and knowledgeable staff will guide you to the best solutions to meet your needs and budget.

Tags: Anti-Virus, audio visual, Backups, branding, commercial, computer repair, computers, Conference Room, existing construction data wiring, hardware, Home Theatre, IT services, Laptops, Office 365, Pre-construction data wiring, Quickbooks, residential, security & surveillance, Servers, service, service rocks, service sucks, Smart Phones, Social Media, software, Surveillance, Tablets, tampa bay computer services, tampa bay IT services, technology, Teleconference, the Cloud, Voice Over IP, web videos, websites