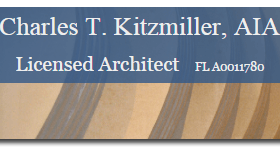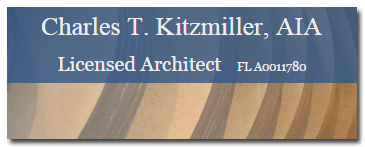 Charles Kitzmiller
813-417-8730
www.tampabayarchitect.com
Licensed architect with 26 years experience working in the Tampa Bay area.
Charles T. Kitzmiller, AIA is committed to providing you with the finest architectural design services at a fair price. We approach every project with a focus on aesthetics, functionality, construction cost and client satisfaction.
For over twenty-eight years, Charles T. Kitzmiller, AIA has designed unique and innovative structures, including custom homes, multi-family residential communities, small-scale commercial buildings, restaurants, schools and medical use facilities throughout the Tampa Bay area and North Palm Beach County. Each project is approached with the goal of achieving a successful blend of theClient's vision, the architect's design intent and the reality of construction and economic boundaries.  Ingenuity and an eye for solutions, gained from years of design and construction field experience make Charles T. Kitzmiler, AIA  the obvious choice for those in search of excellent architectural services.
SPECIALTIES:
Designer of schools, university buildings, banks, commercial office structures, residential communities (single-family and multi-family), additions and remodel of single family homes in historic neighborhoods.


Tags: additions, architect, architecture, commercial properties, custom homes, institutional properties, tampa architect, tampa bay architect