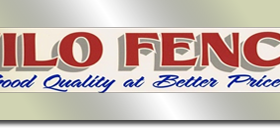 Ariel Concepcion
813-270-5746
www.vilofence.com
ariel@vilofence.com
VILO FENCE is the preferred provider of commercial and industrial grade fence for many large home builders and developers in the Tampa Bay area. We offer rapid installation by our highly experienced crews using the latest technology in fence construction.
We provide core drilling for tough spots and heavy machinery for large projects. Our work can be found at Bay area locations such as public and private schools, U.S. Post Offices and apartment complexes.
SERVICES OFFERED
Vilo Fence proudly installs high quality residential and commercial fence. We are pleased to offer vinyl, aluminum, steel and wood fences. Our company stands ready to help you secure and beautify your home through custom design and installation. It is our pleasure to stand by our work and ensure your satisfaction.
We also fabricate aluminum and steel gates and aluminum fence. Aluminum fence is one of our specialties. Our welders and fabricators are artisans that can make your design project come to life. Whether you are a homeowner looking for a simple railing to decorate your porch or a general contractor looking for several thousand feet of balcony railing, contact us today to begin your aluminum project.
We look forward to meeting with you!

Tags: aluminum fence, aluminum gate, balcony railing, chain link fence, commercial fence, custom design, fence construction, fence production, installation, PVC fence, residential fence, steel fence, steel gate, wood fence